If picking out age appropriate gifts isn't the hardest part of Christmas shopping, then slap a red ball on my honker and call me Rudolph.  What a nightmare, am I right?!  But with age, and with experience have come wisdom.  Ha.  Actually, I'm just enjoying the challenge!  I therefore bring to you : A Guide to Age Appropriate Beauty Gifts!
4-6
Personally,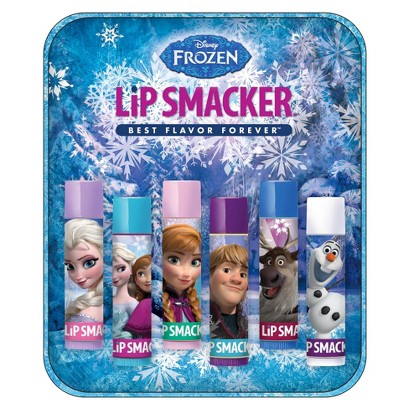 I think 5 is way to young for makeup and I'm trying really hard not to judge you if you're reading this.  But let's be real!  But it's also perfectly natural for a 5 year old to be curious about and want to explore makeup.  After-all, children learn by watching those around them and what better way for a child to sort out their likes and dislikes than through exploration? The trick is to find something that will allow the little miss to explore and develop her individuality without looking like you are on the set of Toddlers in Tiaras.  And I have just the ticket! Frozen themed lip smacker set anyone!?  Yes please!  Hell, I'll take one for myself too!  Less than $10 at Target to boot!
7-9
I was going to say that this age is tough too but let's be real… picking a gift for a girl is tough at any age.  In many ways, 7-9 is still very young.  But the things they say!?  The girl may look 8 but the mouth acts 30, am I right!? Try this 12 pc. assortment of nail polish from ELF.  You can find this at Target for $10 or online at the ELF website.
10-12
N
ow we are getting to the fun stuff 🙂  Most 10-12 year old think they're 30 these days, but at $25, something like this gift set from Bath and Body Works is both affordable and luxurious  The fun scents also allow the 10-12 year old in your life to "feel" like an adult without wearing fragrances that are too sexy for a young lady. Be sure to smell the fragrances before you buy them too.  Look for something fun and fruity and stay away from anything deep, dark or musky.
13-15
At this point (think entry level high school age), most young women are a lot more aware of themselves in relation to others, and it is perfectly natural for high-school aged girls to dabble more into makeup because of this.  However, this can also be a very delicate matter because we want to send the message to these young women that makeup is meant to enhance your beauty (not totally change who you are and how you look).  For this reason I specifically suggest just eyeshadow. I suggest picking up an assortment of Wet N Wild trios for $2.99 each (in particular, I recommend 380B Walking on Eggshells).  Not only are these trios affordable, but they are really good quality, and they are organized in a manner that you can't mess up. I also advise picking up a few eyeshadow brushes since the ones that come in the Wet N Wild trios are crap.  ELF makes pretty good brushes for just $1-$3 each and they can be found at Walmart and Target, or online at the ELF website.
16-18
Do a cha-cha dance because once you hit this age range it's only going to get easier!  At 16-18, the young lady in your life has grown a lot, experienced a lot, and developed quite the personality. At this point I think it may be fair to bust out the high end quality products.  By now, your leading lady should know a little bit more about makeup, how to apply it, and what she likes and doesn't like. Consider a holiday set.  Something like the Tarte Bon Voyage Collectors Set ($59) perhaps?  It's a splurge, but you are getting a lot of bang for your buck.  At $60, you couldn't put together a better assortment (even at drugstore prices).
19-21
Ah, you can breathe now.  We've finally reached an easy age range!  Young women that are closer to this age bracket are students, travelers, workers and event goers.  They need makeup that will keep up with them to!  I suggest the brand spanking new Naked on the Run palette for these adventurous young women.  You will shell out $54 at Sephora for this beauty, but this all in one palette has everything a girl on the run could possibly need.
22-25
By the time you reach 25, using student loans to fund your travels is not quite as fun when you're paying them back.  Young women in the age bracket have much more responsibility than they did just a few years ago, and many are starting families of their own (if they haven't already)… and these ladies are in some serious need of some de-stressing me time. Consider a gift-card or certificate to a spa for a facial or massage.  This is a nice relaxing treat that we don't often give to ourselves and isn't that what gift giving is meant to do?  Gift to those you love something that you know they deserve yet they will never gift to themselves?
26 and up
Oh joy.  We've reached my bracket, haha.  Personally, I would love anything on this list, but more than anything I'm coming to terms with the fact that I'm aging.  I would not be insulted at all if I were gifted a skincare set, and in fact I would welcome it!  I do what I can with my drugstore skincare budget, but I would love to be splurged on here 🙂  I think most women my age would agree, and that is why a skincare set is my pick for this age range. One example would be this 3 piece set from Paula's Choice.  For $65 you get a cleanser, toner and moisturizer that are made with 98% natural ingredients that hydrate skin and prevent the signs of aging.
I also believe that women 26 and up are still 18 at heart.  Skincare would be a nice splurge, but so would a quality palette.  As I get older, matte shades are an ever increasing must (though I still like a little shimmer on the lid).  Therefore another suggestion that I have would be a matte eyeshadow palette like the new Celebration palette from It Cosmetics Naturally Pretty collection.  At just $42, this is a steal but it's also limited edition so don't delay.
I hope you guys have found this break down helpful!  These days it's so easy to just skip gift buying all togehter in favor of gift-cards so I commend you ladies and gents for taking the time to carry on the true meaning of gift-giving: heartfelt intent.  Please, if you have any questions or suggestions for an age range… or perhaps if you are debating a purchase yourself, leave a comment!  And be sure to subscribe so that you can keep up with the conversation 🙂
Until then don't forget to be blessed and be a blessing,
xo Kaily
Disclaimer: None of these pictures are mine.  I have linked them back 
to the sites they were borrowed from :)