Sometimes products just suck.
So as someone who genuinely cares about your financial well being and happiness, I thought it might be a good idea to share with you some of the biggest beauty disappointments that 2014 had to offer me in the hopes that I can help a sister out!  If you love any of those products then please share in the comments section what they are and what you like about them 🙂  Obviously everyone has their own taste so maybe between my opinion and yours we can offer up some good ol' fashioned unbiased thoughts 🙂
I'm also keen on saving $$ so if you had any disappointing products in 2014, I'd love to hear about those too!
1. Sonia Kashuk Highlight – When you were a kid, did you ever play with the barbie makeup?  The ones that were made of plastic but looked real?  That's what this highlight reminds me of.  Even if you scrape AND I MEAN SCRAPEEEE your finger over this product (cause God knows a brush won't help you here), all you get is a chunky mess.  Hate it.
2. Julep Mask Noir – Unless you count the time I wasted testing it out over and over again, this mask does nothing.  NOTHING.  Hate it.
3. Wen Fall Ginger Pumpkin Cleansing Conditioner –  Never in my life have I ever washed my hair and then needed dry shampoo the second my hair dries…  Until WEN.  I wanted to love this stuff so bad and I'm hopeful that it was the particular co-wash that I used (you know how a brand can have different shampoos and some are better than others) because God only knows I didn't use it wrong seeing as how I emptied the 12 oz bottle trying every combination possible of hair washing.  Full review to come.  But in short… Hate this.
4. Urban Decay Naked on the Run – I wanted to love this so much.  I did a full review on it here if you are interested but to summarize, it's not for light skinned gals.  Period.  I don't hate it, I'm just extremely disappointed.
5. TheBalm What's Your Type "The Body Builder" mascara – more like mas-scary!  This stuff totally takes over your lashes and clumps them into a lumpy mess.  It doesn't even matter how careful you are, or how much product you wipe off the brush first.  It just sucks.  Hate it.
6. Too Faced Bonjour Soleil Bronzing Wardrobe – I did not hate this product nor was I disappointed in it specifically… I think it's great quality I just don't know why I bought it!  I didn't use bronzer prior to 2014 so I think perhaps I just got a little too excited at all the options in this palette, but I just really regret purchasing it because I don't ever reach for it.
7. Acure Hair Mask Moisturizing Root Repair Argan Stem Cell + Mint Deep Conditioning – Gosh, longest title EVER.  This is another product that does nothing for me.  It's so thin and watery that I have to squeeze out like 1/4 of the tube just to get the amount of saturation I've grown to expect from hair masks.  I know the Macadamia Professionals one is 2x the price but it is 100% better and will last you for several months longer I swear it!  Very disappointing.
8. EOS Organic Lip Balm Sphere – Strawberry Sorbet – EOS has become one of my favorite lip-balms.  Everything from the shape to the color to the flavors of these balms has drawn the attention of my inner child and I just have to get a new one each time I'm in Target.  I love most of them, but I've got to say that the pink one was a total disappointment.  It's gritty.  Plain and simple, it's not as smooth as the others which sucks already but even more so because strawberry is my favorite balm flavor of life 🙁  Poor me.
9. ELF baked eyeshadow – I don't care if a product is $1 or $100, if it sucks it sucks.  In this case, the $10 baked palettes from elf suck.  Wet or dry you don't get a lot of pigment, they are messy and they wear off fast.  I could have purchased 3 EOS balms with that!  Tax and all!  Hate it.
10. Sonia Kashuk Gem Palette – I tried not to do any brand repeats so that it wouldn't look like I'm hating on anyone (SK makes some of the BEST polish btw if that makes up for this), but I just had to mention this palette.  It was terrible.  It's pretty much nothing buy chunky glitter.  I didn't even attempt to wear it because the texture was just so gross that I just flat out didn't want this product anywhere near my eyes.  Think an entire palette of Gothica from the KVD Star Studded palette.  Hate it.
11. Yes to Grapefruit Dark Circle Correcting Eye Cream – 0.5 oz – Admittedly, I forgot to apply this shit 3-4 times over the span of 30 days but based upon the before and after pictures I took this product didn't do shit.  Not a single shit.  I feel bad tossing something so I still use it for a little added moisture but I will never, ever, ever purchase this product again.  Very disappointing.

12. Flower Lip Service Lip Butter – These are okay for $7.  They tug a little and are pretty sheer but they aren't bad overall.  What is bad is the packaging.  The shape is strange and doesn't fit into a traditional lipstick container.  I can get past that though.  What I can't get past is a product opening in my over priced name brand purse and destroying it.  The lids on these things are terribleeeeeeee.  Unless you are selling me a product that will last all day (and therefore requires no touch ups) you need to include a sturdy lid.  Very disappointing.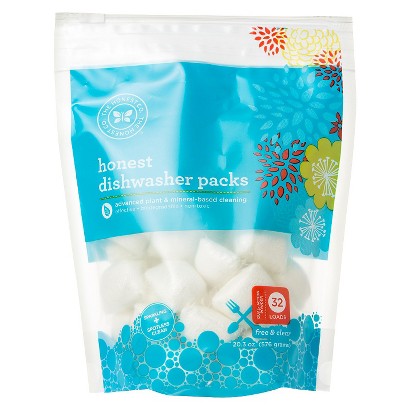 13. The Honest Company Dishwasher Tabs – And my search for the perfect cruelty free and natural dishwasher tablet continues.  I don't think I've really addressed my household cleaning product adventures with you guys here on my blog but it's a post I hope to do soon.  For the time being, just know that I usually end up needing to re-wash half my dishes due to all the leftover soap stains from these tabs.
14. Bath and Body Works Candles – Sure, these smell great!  But they are so fast to burn through!  For $22 I could get two soy candles from Target and a king sized Snickers and still have change for my sons piggy bank.  Add that to the fact that each soy candle lasts at least 2x as long as a B&BW candle, is better for you because it's soy and not wax, and fills the room with just as much fragrance and the rest pretty much speaks for itself.
So that's it!  I'm sure there were more, but I do tend to return things that I find are subpar so I know there's stuff I forgot.  Like the NYX Vampy crayon things for example.  But hey, this is a top 14 not a hate fest so we must move on people, we must move on!  Per the usual, some of the pics used aren't mine but if you click them you will be taken to the source.
TTYS <3